Unless you've been living under a rock, you probably know that the G20 Summit is happening in Seoul right now.
The summit is taking place in central Seoul near the COEX mall--getting around Gangnam and Samseong Dong is supposed to be nearly impossible.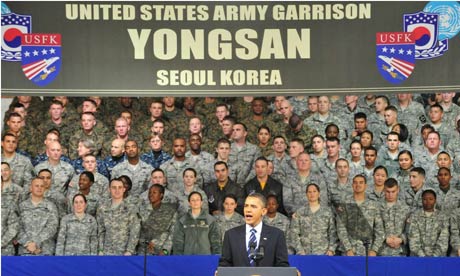 (
Source
)
A bunch of important folks are in town--Obama spent Veteran's Day (yesterday) giving a speech to a bunch of soldiers on Yongsan Air Force Base.
(
Source
)
With the G20 comes the inevitable G20 protestors--I've seen my fair share around Konkuk University (near my house) and around more central areas like Seoul Station. But for the most part, things have been very quiet, especially in comparison to the last summit in Toronto...thanks, Confusian Society Which Discourages the Dissident!
I thought about maybe doing this
G20 lesson
in class that I found from my new favorite teaching website,
waygook.org
--but I am kind of over all of the diplomacy/global awareness bullshit that has b
een completely inescapable/plastered all over the subway/buses/on TV/the radio
for the past month. My students are especially over it, I think.
CNN has
a big South Korea feature
going on right now, complete with quizzes/travel stories/news stories in honor of G20.
The New York Times recently published
a really good 36-hour Seoul travel itinerary
that I'm guessing is aimed at G20 goers.
And
this glowing article from TIME
paints Korea/Koreans as perfect global citizens, which I'm not sure is entirely true of all here just yet...but still, it highlights interesting changes that have been happening in Korea, blah blah blah